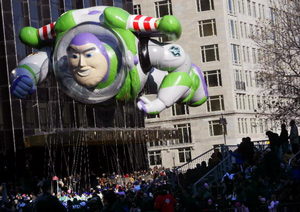 In tomorrow's Macy's Thanksgiving Day Parade, Buzz Lightyear will again be reprising his appearance, as a giant helium-filled balloon, as he has done every year since his original debut, four years ago, in 2008.
Buzz Lightyear joins a prestigious list of other iconic figures that have been made into balloons for the parade, beginning with Felix the Cat in 1927. Mr. Potato Head also made an appearance in the 2005 parade.
Google announced this morning that Walt Disney Studios has joined up with YouTube to provide many of its movies for streaming rentals. Universal, Warner Brothers and Sony have already entered into similar deals with YouTube. Pixar's films will, of course, also be licensed for streaming as part of the deal. YouTube movie rentals vary in price from free to $3.99 with many quality rentals available in high definition for only $.99.