Who Bought the UP House?
It's been a couple months now since the UP house in Herriman, UT was closed to the public and the Hamblin family moved in. Traffic through the neighborhood is dying down and things seem to be settling. But there is still an awful lot of interest from the online community judging by the number of Google searches that lead people to this site. One of the most frequently recurring search strings is "Who bought the UP house?" So, when the Hamblins agreed to an interview and invited me into their new home a couple weeks ago, that's the question I set out to answer.
The Hamblins relate their story of young love, not unlike that of Carl and Ellie themselves, the major role Disney has had in the lives of them and their two children, and the latest news on their struggle to keep the signature pastel colors in a neighborhood restricted by a homeowner's association with an earth tone color palette.
The Hamblin Love Story
As young teenagers Clint and Lynette met in math class at a Utah junior high school and learned quickly that they had quite a bit in common. "Clint and I were always in Math classes together. We actually flirted on our TI-83 calculators. I scoped him out because I had just moved from California and so had he," remembers Lynette.
While commiserating together, their friendship developed. "Our friends hooked us up in our senior year, and our first date was senior prom. Shortly after high school we both moved back to different parts of California, but we kept up a relationship and ended up getting married pretty darn young right after high school and that's all she wrote. We've been married for 12 years now," said Clint.
The Disney Love Story
Learning of the Hamblins' passion for Disney has been a great comfort to fellow Pixar fans who hoped the house would fall into the right hands. Growing up in Southern California, Lynette made regular visits to Disneyland, but Clint wasn't quite as fortunate. "I never went as a kid. I always wanted to, but we would go to places that were closer to home or cheaper. But after we got married, we were treated to a trip to Disneyland and that was my very first time. And I couldn't believe what I had been missing for 20 years! That place is, no joke, the happiest place on earth," said Clint.
Even before they had kids as a young couple the Hamblins would spend their evenings watching Disney films or perusing around their local Disney Store. They've been regular Disneyland season pass holders ever since. Their young daughter Coral (4) and son Gunner (2) are already well versed in the Disney vernacular and know their way around Disneyland. "Gunner gets nervous in crowds, but in Disneyland he's really comfortable. He gets it. He understands the Disney vibe and spirit, and he's comfortable there," said Lynette. Clint added, "UP was the first movie we took Coral to in the theater. She sat through the whole thing and absolutely adored it. She was a bit scared of Kevin at first, but other than that she absolutely loved the movie." Lynette, a glass artist, says that probably 95% of her work is Disney-themed.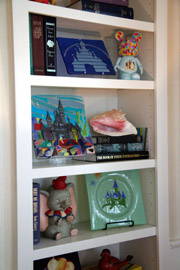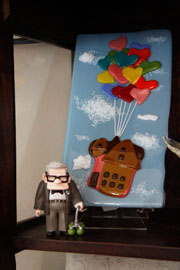 As I imagine is the case with most film fans, picking a favorite is hard to do, but the Hamblins offered up a short list of their favorites. After naming UP as their likely top favorite, Lynette continued, "WALL•E for me is probably right next to that. And right next to that is Meet the Robinsons. I also love Tangled, and the classic Dumbo scene with momma and baby. That one just gets ya." Clint then chimed in, "As for characters, I've got a lot of merchandise of Jack Skelington, and I know that's a Tim Burton movie partnered with Disney, but I'm a huge Nightmare Before Christmas fan." Then Lynette, "Growing up, Ariel was always my favorite character." Looking down at the Ariel T-shirt she was wearing, she laughed and continued, "Yeah, that wasn't even on purpose! Donald Duck has a big piece in my heart because my dad talks Donald Duck perfectly. But when Rapunzel and Tangled came out, I was like, 'Oh no, what if I love Rapunzel more than Ariel?! So, I think they're kind of tied."
Why the UP House?
As Pixar fans, they were naturally interested in the house from the start. They had already been looking, unsuccessfully, for an UP-style house in California when Clint stopped by the UP house in Utah while on a trip to visit his ailing grandmother.
Said Lynette, "While he was flying home, I was watching Extreme Home Makeover and they had the retro-style kitchen appliances in there, so I hit record so I could show him that this is what we had to have in our UP house. I had no idea that those were in this house until I started to flip through the brochure he brought home with him and saw the retro appliances that were the same color I would have picked. We were like, 'We have to buy this.'"
Among the many signs they say that led them to feel this move was meant to be, Clint described, "In Oakland California when I was flying home, I was walking out of the skyway, and lined up perfectly with the skyway as I was coming out was a Fenton's Ice Cream shop in the airport. That happened within a few minutes of my grandma passing away." Speaking of death, his grandma said, "What an amazing adventure this is." Clint added, "They told me that before I had let them know that I'd been looking at this house and had a strong feeling that we needed to pursue it. It was another one of those things, signs, or twists of fate, as you will, that just kept leading us in this direction. So now we're here and we love it! We love it, absolutely love it!"
There were practical reasons too. Their families live close by. In fact, Lynette's parents are building a home on the empty lot next door. "There are great schools in Utah. It's such a great place to raise a family. That's one of the main reasons we wanted to come back. The neighbors are great. We've got a park right across the street. It's next to all of the stores we like to go to," said Clint. They also simply loved the style of the home with the swooped roof, steep pitches and the weathervane, which was one of Lynette's requirements.
Life in Their New House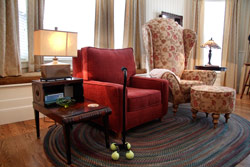 Despite being a bit spooked by the screeching noises of the weathervane on their first windy night in the house, the transition to the new home has been a happy adventure for the Hamblins. There has still been a pretty steady stream of attention to the house even now, though it has begun to wane somewhat. In just the few minutes I was sitting in their living room, 4 or 5 families drove up to take a look. "We were actually sitting down to eat lunch one day and a family just walked in. We had forgotten to lock the deadbolt. Now we're really good about it just so people don't accidentally walk in. And we put up a little sign. We didn't want to have to, but the knocking and the ringing was getting hard because we've got a dog and she goes ballistic when the doorbell rings and we would be in the middle of dinner or trying to watch a movie with the family, and the door bell would ring, so we put up a sign on the fence just to let people know. But it is kinda cool when you look out your window and you see people get so excited about it. They're seeing it for the first time and you'll see a cute young couple taking pictures and literally jumping up and down, wigging out, so happy to be seeing it in real life." said Clint.
"But we get it," said Lynette, "if we hadn't bought the house we'd be out there too. The first couple weekends we were here, every Saturday we would have all of these teens coming and bringing us balloons or chocolate bars. All the boys would have kisses and would have to say this specific sentence. We don't know what kind of scavenger hunt they were on, but we were a stop on it. But that's what I love about Utah. I grew up in Southern California where it was all about wild parties, to moving here for high school where we were roller blading, dressing up in 80's clothes, and putting on crazy makeup at midnight for fun. The fun stuff like that is why we're glad we're in Utah."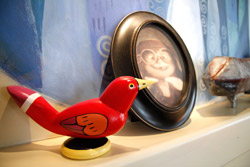 Even at their young age, the kids understand how special their house is. "When we first pulled up to the house, our son had a meltdown because he went running for the door and we couldn't let him in because Blair Bangerter (the homebuilder) wasn't here yet. But he totally knew it was the UP house. He always had such a big bubble, but since we moved here, he's speaking and communicating," said Lynette.
"He wasn't unhappy, he just seems much happier and more open here than at our other house. We couldn't even take him in stores. He just didn't like being around all those people, even friends and family. But we've had so many people coming through the house, now he's talking to them, grabbing their hands and pulling them places," added Clint.
New Brown Paint Job for the UP House?
As for whether the Hamblins will be forced to repaint the house, according to the color palette rules of the homeowners association they are a part of, Clint says it's about 98% resolved. "I've been told by not only the neighbors, but also the board of directors from the HOA that they really want the colors to stay. They just don't want to force anything down anybody's throats. We understand, we're living in an HOA and we don't want to force anything down anybody's else's throat either, so we want to do things the right way. Their biggest complaint wasn't necessarily the color, it was all the hoopla that's surrounded the house and the traffic. But it has begun to dissipate and they're happy about that."
Concerning the neighbors who stirred the pot in the media he said, "They are the best people. They were the first ones to come over and greet us into the neighborhood. They brought us treats and have continued to keep in touch and make sure we're doing ok. They're just sweet, sweet people. They invited us over for dinner. They're great. I totally get people's complaints about it. It's one of those things where you're in an HOA and you're told one thing and somebody else is allowed to do something else and it feels unfair. So, I get it."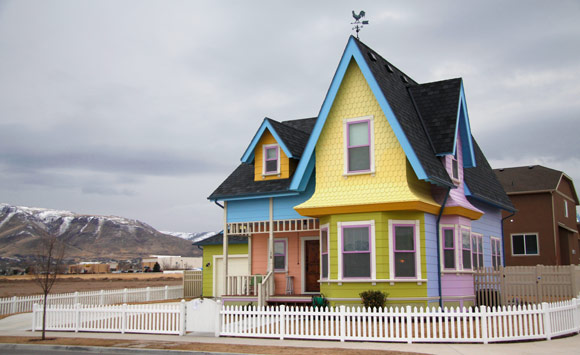 The Pixar Podcast had the same idea I did. We probably should have teamed up or something! Head over there to hear an interview Derrick conducted with the Hamblins.