Weird Al Spotted at Pixar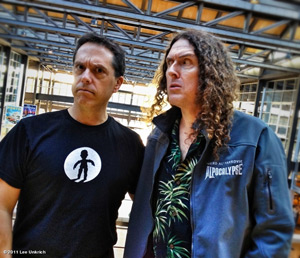 Weird Al Yankovic boasted about his invitation to see inside the Pixar campus this morning on his Twitter feed.
Lee Unkrich and Weird Al bumped into each other at some point during his visit. Lee posted this photo as proof.
Naturally, his visit has caused a flurry of speculation online as to what, exactly, he was doing there. If he was lending his voice to a future Pixar character, it's unlikely it would appear in any films earlier than Monsters University, as Brave is surely finished with its primary vocal work at this point.
Also likely, is that he's there just as a curious celebrity to have a peek.