New Characters Unveiled for Cars 3
By now, you've likely seen that riveting teaser for Pixar's next upcoming feature, Cars 3. Thanks to new details released this morning by Brian Fee, who is making his directorial debut at Pixar on this film, the curtain has been drawn back a bit more on new characters and minor plot details.
Jackson Storm
Armie Hammer, known for his roles in The Social Network, The Lone Ranger, and The Man from U.N.C.L.E. provides the voice of the young hotshot racer and presumed villain, Jackson Storm. "Jackson was born with a silver spoon in his mouth. Everything comes easy to him, and everything about him says he's faster, so much so that we've designed him so that even when he's standing next to McQueen, McQueen looks old," says Lee. "He thinks the world is his. He's taking over. He's owed it… He thinks the future of racing and the high-tech ways they train and what they can do means they're taking the sport to a new level, and the older guys had their day, and it's done, and they have no place in the future of racing."
Cruz Ramirez
McQueen's sharp, young new trainer, Cruz Ramirez is voiced by Cristela Alonzo — known for her appearances on TV Series The View and Cristela, both on ABC. "Whereas others like Jackson would look at McQueen and dump him, Cruz isn't like that at all. She's the most optimistic person in the world and wants to do anything to help," says Fee.
Lightning McQueen
Owen Wilson returns as the voice of Lightning McQueen. According to Fee, "McQueen is not the young hotshot anymore, the kid he was back then in Cars 1. He's in the middle of his life, and as an athlete, that's getting up there. You have your whole life ahead of you, yet your career is starting to show its age. He's looking in the mirror and realizing, 'I'm 40 years old,' and dealing with the fact that the thing that you love more than anything else, you might not be able to do forever."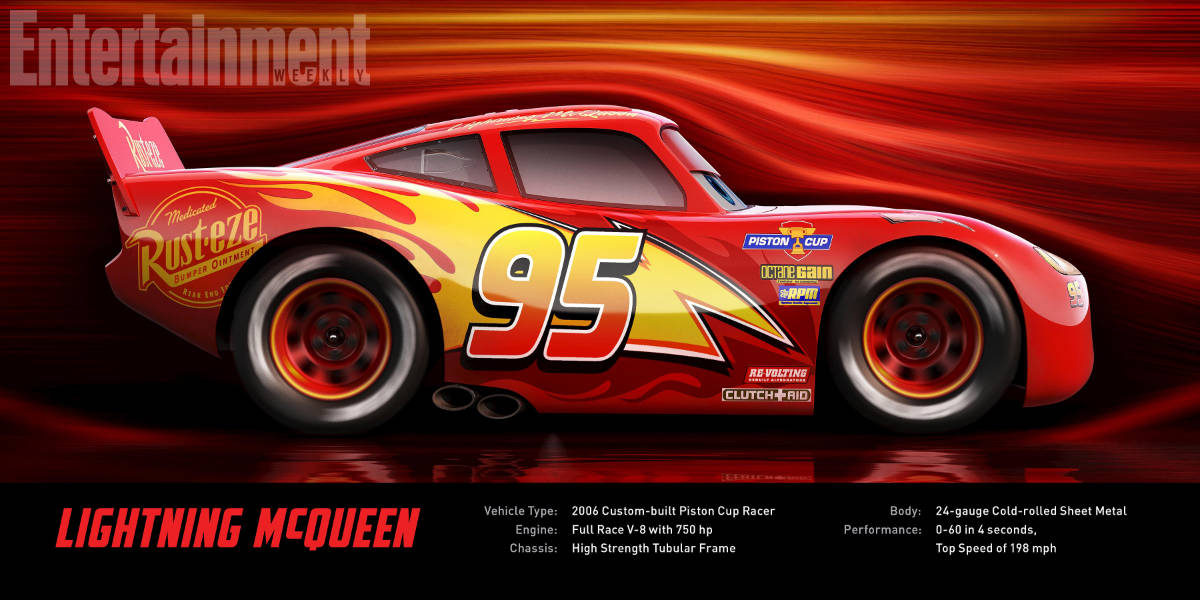 Credit to Entertainment Weekly