Five Pixar Films in Theaters Soon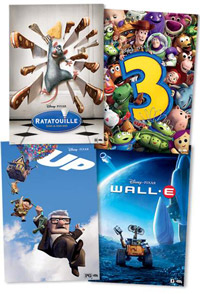 Over Memorial Day Weekend, AMC Theaters have announced that they will be re-screening four Pixar classics at a discounted $6 price. Ratatouille, WALL•E, UP and Toy Story 3 will be shown at select AMC Theaters between May 25th and May 28th. Check their website for specific details and participation locations.
Also announced today was the official world premier of Brave at the Los Angeles Film Festival, which begins on June 14th. It all takes place at a famous venue, formerly known as the Kodak Theater, the annual gathering place for the Academy Awards. Kodak, due to financial difficulties was forced to relinquish its sponsorship which was then claimed by Dolby. The new Dolby Theater is being retrofitted with the new Dolby Atmos system. Brave will be the first commercial film released with an Atmos mix, which makes it the perfect showcase for the grand opening of the new Dolby Theater. Brave is scheduled to be shown at the festival on June 18th, 2012, with the public release in the United States set for June 22nd.