Buzz Lightyear Makes 4th Appearance in Thanksgiving Parade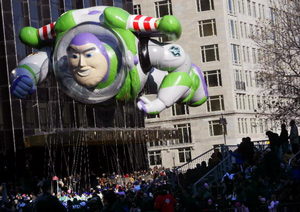 In tomorrow's Macy's Thanksgiving Day Parade, Buzz Lightyear will again be reprising his appearance, as a giant helium-filled balloon, as he has done every year since his original debut, four years ago, in 2008.
Buzz Lightyear joins a prestigious list of other iconic figures that have been made into balloons for the parade, beginning with Felix the Cat in 1927. Mr. Potato Head also made an appearance in the 2005 parade.