Strong Brave Resemblance in DreamWorks' The Croods
With the release of the first teaser trailer of DreamWorks' upcoming caveman tale, The Croods, some heated debate has stirred about the similarities it bears to the concept and even aesthetic of Pixar's Brave.
As I watched the trailer for the first time, I was immediately reminded of Brave. The teaser highlights a teen-aged bushy-haired redhead with a disdain for following the rules of her short-sighted parents and eventually ends up getting them into trouble. The message is finally driven home by a shot of the girl doing a solo, free-style climb up a cliff — an signature image from the Brave promo pieces.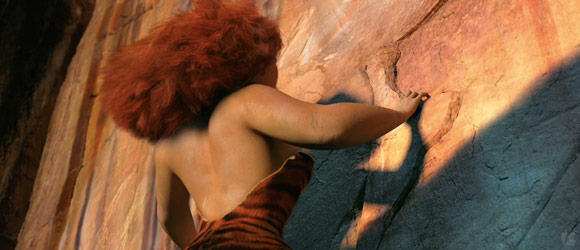 It turns out I wasn't the only one to notice the similarity. There is quite a discussion brewing on Big Screen Toons.
DreamWorks has been in constant scrutiny over alleged Pixar copy-catting starting with the infamous, and intentional A Bug's Life / Antz ordeal, followed by the Finding Nemo / Shark Tale incident.