Pixar Themed Disney Cruises This Fall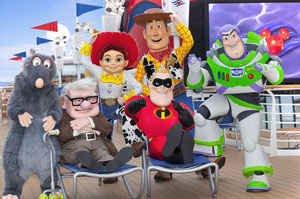 This fall, Disney Cruise Lines will offer a special, limited-time cruise that will cater exclusively to the favorites of Pixar fans. From September 16th – October 14th, 2012, Disney will offer four week-long California coastal cruises featuring only Pixar characters and activities.
Activities on board include visits from Pixar artists, special art exhibits, screenings of all Pixar films including Finding Nemo 3D which will debut only two days before the first cruise departs, Pixar themed dance parties, and of course, Pixar characters roaming the decks to meet and interact with the ship's passengers.
The cruises sail out of Los Angeles, visit San Francisco, San Diego and Ensenada, Mexico. Tickets start at $799.
Thanks Stitch Kingdom