La Luna Picture Book Preview Image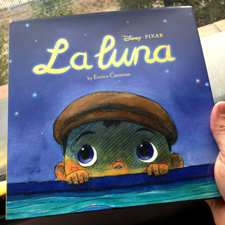 The Disney Press is set to release a picture book based on Pixar's upcoming animated short film La Luna. Enrico Casarosa, the short's director, tweeted a preview photo of the cover yesterday. The book is said to feature many beautiful watercolor illustrations from Pixar artists and even Casarosa himself.
The book is already up for pre-order on Amazon with a supposed, but rarely-reliable release date set for May 18th.