California Adventure's Cars Land Sneak Peek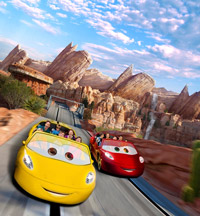 Disney Parks has released a promo image to build interest in the Radiator Springs Racers attraction in the upcoming Cars Land.
Cars Land is set to open this year in the California Adventure Theme Park. There is still no word yet on an official opening day.
Cars Land is built in the heart of Disney's California Adventure, the sister park to the traditional Disneyland, on a sprawling new 12-acre plot built to mimic the desert scenery of the Route 66, Radiator Springs landscape.
The following video was released some time ago, but will give you a bit better idea as to how the attraction will operate:
Thanks Pixar Talk