Brave Concept Art Surfaces
New concept art has surfaced over the last couple of days from Pixar's upcoming summer film, Brave. As always, these three images remind us of Pixar's immense investment in story development. The image above is an as of yet uncredited piece exploring ideas for the look of the forest.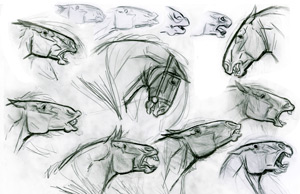 Left is a concept drawing of Merida attributed to Tia Kratter and Matt Nolte. Right is Merida's horse, Angus, drawn by Matt Nolte.